The Colour Green in conversation: Farhana Yamin & Gaika
March 8, 2021 @ 7:30 pm

-

9:00 pm

£3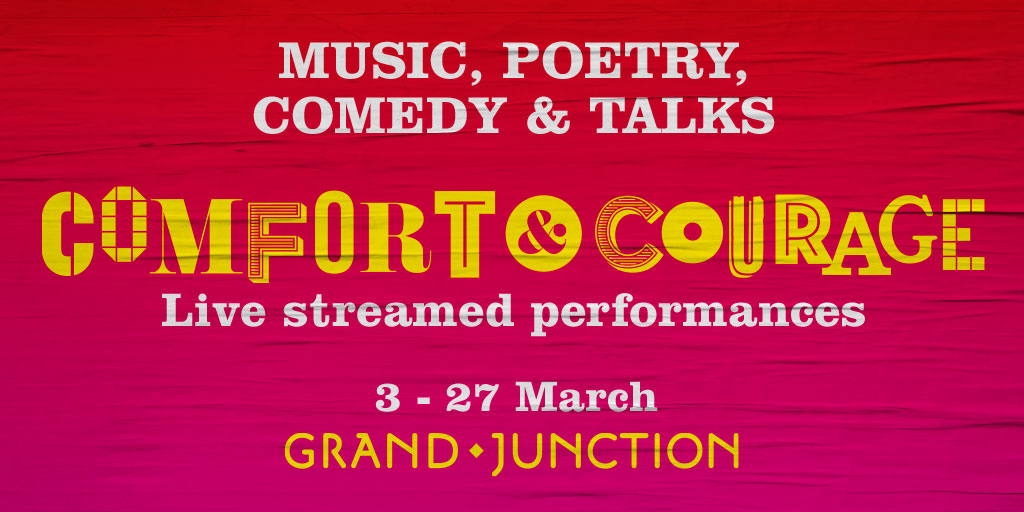 Baroness Lola Young is joined by Farhana Yamin and Gaika in this very special evening.
Produced for Comfort and Courage, and part of Season for Change – a UK-wide cultural programme inspiring urgent and creative action on climate change – Julie's Bicycle presents The Colour Green in Conversation, an intimate panel discussion on climate justice and culture.
Baroness Lola Young will be joined in conversation by international climate lawyer, Farhana Yamin, and artist and musician Gaika, to share their hopes, insights and inspiration for this crucial year for climate action.
This event is a continuation of The Colour Green podcast series, exploring climate justice through personal perspectives, connecting issues of race, power and inequality within climate activism.
---
Event details
This event is performed at Grand Junction to an online audience. Details of how to watch will be emailed to the paid digital audience one hour before the show commences.
20% of every streaming sale for this event will go towards May Project Gardens. Chosen by Julie's Bicycle, this Community Interest Company is close to the organisation's heart and works with a transformational combination of permaculture and music.
---
About Comfort & Courage
Bringing the stage to the comfort of your living room, Comfort and Courage is a season of music, poetry and discussion performed live from the neo-gothic St Mary Magdalene's church – and live streamed for online audiences. 
As the pandemic shines a spotlight on injustices and the effect on our mental health, in Comfort and Courage, artists and political voices explore how they balance emotional well-being with creative expression, and share what gives them comfort, and the courage to speak out.
Featuring 21 events in 25 days, the full Comfort & Courage programme includes other highlights from Emmy the Great, Tongue Fu, Arab Women Are Not Funny, and the premiere of Healing Music from Talvin Singh.
---
About the speakers
About Baroness Lola Young:
After an extensive acting career, Lola Young went on to become professor of Cultural Studies at Middlesex University, a writer, broadcaster and cultural critic. Lola subsequently became Head of Culture at the Greater London Authority before being appointed an independent Crossbench member of the House of Lords in 2004. She founded and Co-Chairs the All Party Parliamentary Group on Ethics and Sustainability in Fashion, and the All Party Parliamentary Group on Sport, Modern Slavery and Human Rights and has previously served on Select Committees on Sexual Violence in Conflict and on EU.
As Chair of the Young Review, and Agenda: the Alliance for Women and Girls at Risk, Baroness Young has addressed racial disproportionality in the criminal justice system and the vulnerability of traumatised women and girls respectively.
Baroness Young holds several honorary doctorates, has sat on the Boards of several national cultural organisations and charities, has been a Chair of judges for the Orange Prize for Literature, and chair of judges for the Man Booker prize 2017. She is now working eliminating modern forms of slavery in supply chains, with a focus on fashion and sport.
About Farhana Yamin:
Farhana Yamin is an internationally recognised environmental lawyer, climate change policy expert and activist. For 30 years she has provided high level strategic and legal advice to leaders of vulnerable countries and was Lead Author of three assessment reports for the Intergovernmental Panel on Climate Change. She is also credited with getting the goal of net-zero emissions by 2050 into the 2015 Paris Agreement.
In 2018 She joined Extinction Rebellion (XR) as Coordinator of the Political Strategy Team, and is an Associate Fellow at Chatham House, a Fellow of the Royal Society of Arts, a Senior Advisor for Systemiq, a Trustee for Greenpeace-UK and Julie's Bicycle, and a member the Programme Committee of WWF-UK.
About Gaika:
Musician Gaika makes grime, dancehall, and R&B-inflected songs pushing radical political commentary about the racial, economic, and social inequalities in the UK and abroad. Following the mixtapes Machine and Security, Gaika released the EP Spaghetto in 2016. The Guardian described his music as blending "Caribbean dancehall tradition and London grime but also nod to R&B, trip-hop, grunge and Prince." Dazed have described him as "electronic music's answer to Basquiat", while US magazine Interview described the sound as "experimental R&B". GAIKA himself has described his sound using the word 'Ghettofuturism'. GAIKA's debut album Basic Volume was released in July 2018.
Alongside his music Gaika is an artist, writer and activist. He developed an audio-visual sculpture installation titled SYSTEM, in collaboration with Boiler Room and Somerset House Studios. He is the Political editor at large for Dazed and Confused, previously interviewing Jeremy Corbyn about climate change and inequality ahead of the 2019 general election.
---
About Season for Change:
Season for Change
is a UK-wide cultural programme inspiring urgent and inclusive action on climate change.
From April-July 2021, Season for Change will showcase the creativity and leadership of the UK's cultural sector on the most important issue of our time – the climate crisis – through 13 artistic commissions and an open programme where any artist or arts organisation can submit an event related to climate action or the environment.
About May Project Gardens:
May Project Gardens is an award-winning CIC, working across South London to address poverty, disempowerment, access to resources and influence. They work with marginalised groups, young people and people of colour, using what they consider universally connecting tools like nature, food and creative arts for social change.
May Project Gardens aims to create personal, social and economic transformation for marginalised people by reconnecting with nature and finding community solutions to economic hardship.