Opinion
Posted on November 8th, 2019
The JB team's favourite poems for World Poetry Day
It's no secret that we firmly believe in the power of arts and culture to drive and inspire action on climate change. Art enables us to perceive and understand issues in newer, deeper ways, and can help make complicated scientific and academic concepts more accessible. Poetry shares this power – take scientist Gregory Johnson, who distilled the dense, 2000 page 2013 IPCC report into haiku accompanied by watercolour illustrations.
Among artistic practices, however, the performance of poetry and spoken word has a unique relationship to climate change. As oral traditions, they serve as vehicles for expression and preservation for spoken languages and orally-transmitted cultural material across the world, and their intangible nature puts them at greater risk of being lost through climate-induced displacement. This World Poetry Day, we'd like to shine a light on this powerful medium and its capacity to convey memory, loss and hope within and among communities.
We're proud to have worked with so many talented poets using their art and their voice to bring attention to the many issues around climate change – from Zena Edwards and Anthony Anaxagorou, who performed at the launch of the Creative Climate Trends, to Selina Nwulu, who performed at the 2017 Creative Green Awards and read her work the Accelerator Programme training at Hawkwood College, and Ruth Sotoye, who performed at the 2018 Creative Green Awards. And we know that there are many many more poets and spoken word performers who share similar convictions around the power of poetry in climate action, including those in anthologies compiled by Platform London and the RSA.
Today, we share some of our favourite poems that move and inspire us in the fight against climate change, and we hope you connect with them as we did.
An excerpt from Gregory Johnson's haiku and watercolour interpretation of the 2013 IPCC Report. © Gregory C Johnson
---
Alison picks: The Schooner Flight by Derek Walcott

Saint Lucian poet and playwright Derek Walcott's epic piece is an ode to the sea and its capricious nature, ripe with mythic and autobiographical themes that connects the protagonist's relationship with the sea to his identity as a mixed-race man with Dutch, African and English heritage. Read the poem in full on Poetry Foundation.
Farah picks: Home is a Hostile Lover by Selina Nwulu
Selina Nwulu is a writer, essayist and social researcher who we are honoured to have worked with here at Julie's Bicycle. Selina performed 'Home is a Hostile Lover' at the 2017 Creative Green Awards, and also gave a reading of her work at the Accelerator Programme training session at Hawkwood College.
Yingbi picks: Tropical Rain Forest by Liu Kexiang
Liu Kexiang is a Taiwanese poet. After his earlier political poems in the early 1980s, his poetry and writing has turned to focus on nature and understanding our living environment. This poem was sourced from in Frontier Taiwan: An anthology of modern Chinese poetry, edited by Michelle Yeh and N.G.D. Malmqvist.
Catherine picks: Birdsong for Two Voices by Alice Oswald
In this piece, British poet Alice Oswald documents the soundtrack of spring. This poem was originally published in Woods etc., Alice Oswald's third collection of poems.
Ruby picks: Tunnel Vision by Kate Tempest
British spoken word performer, poet and recording artist Kate Tempest performs an excerpt of Tunnel Vision on BBC Newsnight, an impassioned call to see each of ourselves as parts of a larger whole, and to pay attention to the issues that plague the world, from war to environmental destruction. Listen to the album version of Tunnel Vision and watch its accompanying video here.
Chiara picks: What We Can Least Afford to Lose by Luke Kennard
This is a Canal Laureate poem by Luke Kennard, who was The Poetry Society and Canal & River Trust's Canal Laureate from 2016 to 2017. Read the poem in full at The Poetry Society.
Paul picks: A Language of Change by David Sergeant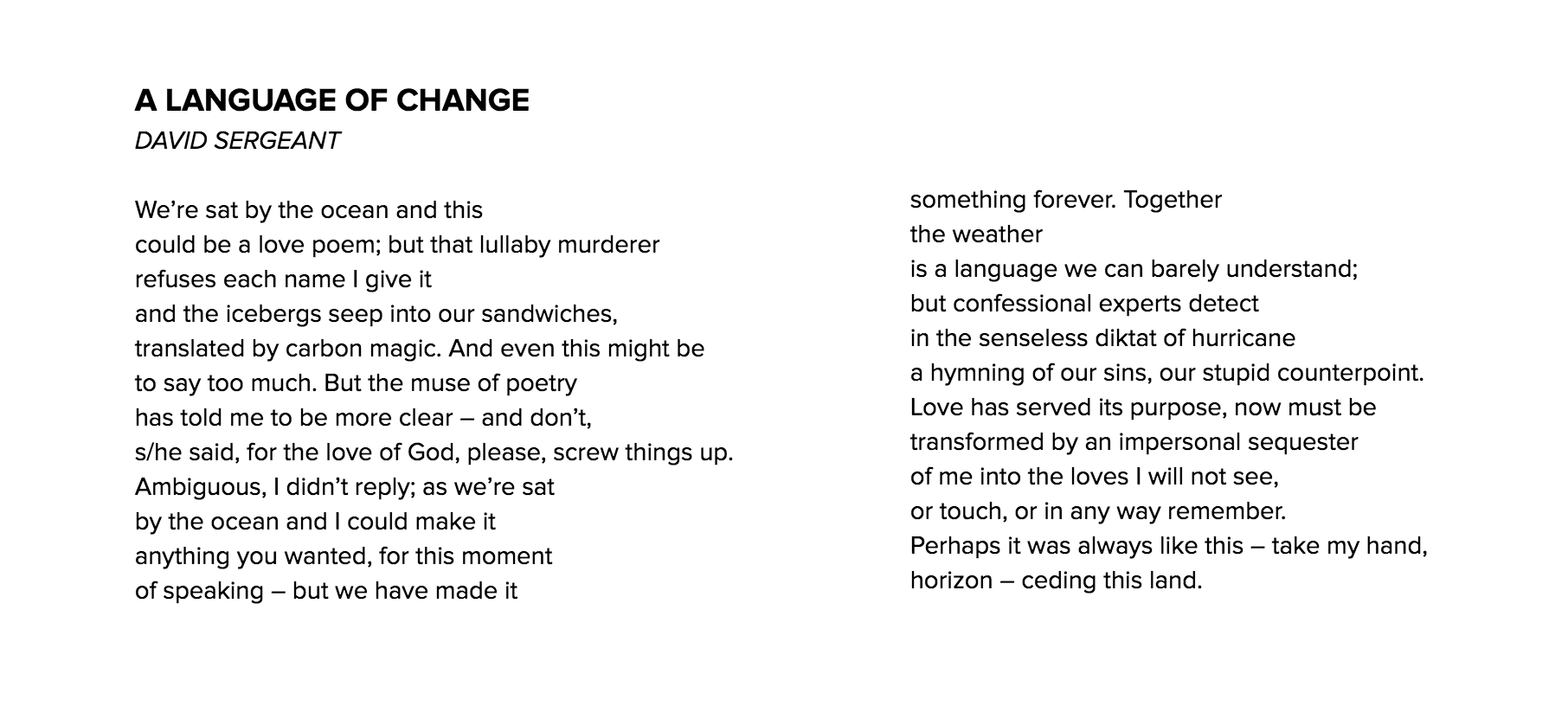 This poem was originally published on the Guardian, as part of a series of 20 original poems on climate change curated by UK poet laureate Carol Ann Duffy.
Lucy picks: Rise: From One Island To Another by Kathy Jetñil-Kijiner and Aka Niviâna
Poets Kathy Jetñil-Kijiner and Aka Niviâna, from the Marshall Islands and Kalaallit Nunaat (Greenland) respectively, use their poetry to connect their island homelands though their realities of melting glaciers and rising sea levels. Farhana Yamin, Chatham House Associate Fellow and former Climate Adviser to the Marshall Islands, also opened her presentation at the Season for Change COP24 Industry Briefing with a screening of this poem. Read the poem and the process behind Kathy Jetñil-Kijiner's writing, and find out about the documentary team on 350.org.
Will picks: Höfn by Seamus Heaney
The 1995 Nobel laureate in Literature Seamus Heaney contemplates the rising threat posed by climate change in 'Höfn', named after an Icelandic town. This poem was originally published in District and Circle, his 2006 collection of poetry. Listen to the poem being recited here.

Laura picks: The Beauty of the Butterfly by Maya Angelou
The incandescent and endlessly inspiring Maya Angelou reminds us of the work we must put in to secure the future we desire for our world and our future generations.
From all of us: A tribute to W. S. Merwin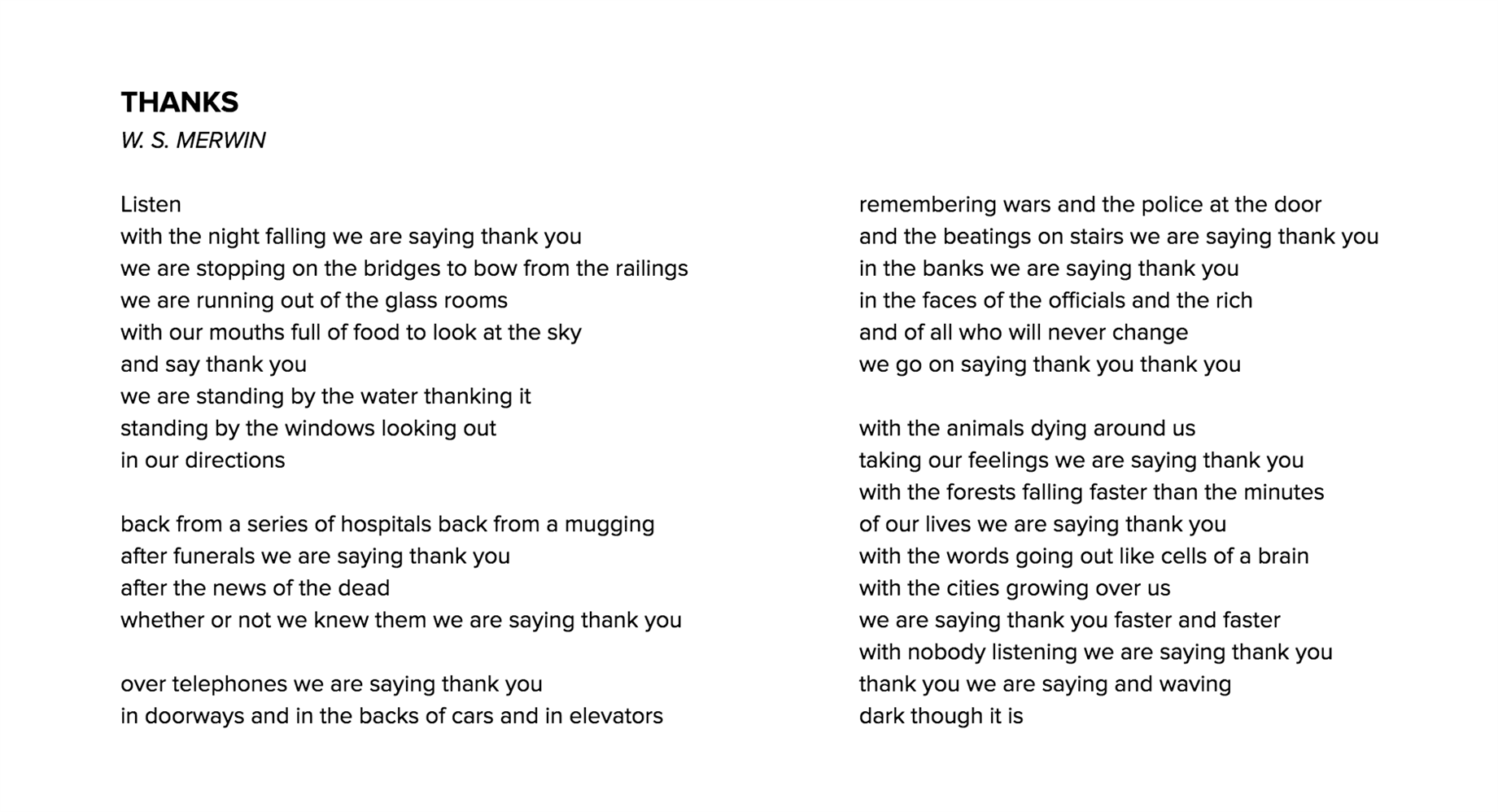 The brilliant poet W. S. Merwin, who was known for his antiwar and ecological activism, and for his work as a conservationist, passed at age 91 five days ago. W. S. Merwin, we send our thanks to you for your beautiful poetry. This poem was sourced from the Poetry Foundation.
---
Finally, we'd like to share two more amazing poems that are accompanied by recordings of them being performed. Give them a listen:
Earth Cries by Jean Binta Breeze
Urgent Whisper by Denise Levertov
Anthony Anaxagorou performing at the launch of the Creative Climate Trends. Photo © James Allan
---
Banner image: Ruth Sotoye performing at the 2018 Creative Green Awards. Photo © James Allan
Back to all News & Opinion