Posted on December 15th, 2022
Julie's Bicycle at COP 27
In November 2022, COP27 delivered exciting news and a historical win for the creative climate movement. For the first time ever, national governments included cultural heritage in statements on both loss and damage and adaptation.
Julie's Bicycle played a part in this significant achievement, which means that culture is recognised as an asset to be protected from climate impacts and a resource to strengthen communities' transformative change.
To share inspiration across the creative climate movement, Julie's Bicycle joined forces with Climate Heritage Network (CHN) and International Indigenous Women's Network (FIMI) to present a series of events as part of Resilience Hub's Arts, Culture, Antiquities and Heritage theme. Featuring a diverse array of speakers, artists, and activists from around the globe, the events showcased examples of creativity, innovation and resilience.
---
Watch recordings of Resilience Hub's Arts, Culture, Antiquities and Heritage events
Culture, Gender, and Resilience: Unlocking Diverse Knowledge Systems
14 November 2022
Speakers: Rosie Paul (Masons Inc Studio), Alison Tickell (Julie's Bicycle), Angelica Arias Benavides (Instituto Metropolitano de Patrimonio De Quito), Elena Carillo Palacios (Colectivo Zompopo), Dr Sajal Ray (Centre for Social Impact), Edna Kaptoyo (Pawanka Fund), Lydia Wanjiku (Lensational).
A session celebrating women as custodians of culture, agents of transformative change and leaders in using arts and culture for climate action.
---
Mobilising Creativity: Showcasing the Depth, Range and Potential of Creative Climate Practices
14 November 2022
Speakers: Alison Tickell (Julie's Bicycle CEO) and Farah Ahmed (Julie's Bicycle Climate Justice Lead), Rosie Paul (Masons Inc Studio), Rosanna Lewis (British Council), Prof. Chukwumerije Okerere (Alex Ekwueme University), Nasser Mansour & Musallem Abu Faraj (Sinai Trail), with readings from Letters to the Earth.
Drawing on examples of arts-led and creative practice, this session showcased the depth, range and potential of creative climate practices to reimagine and shape resilience on the ground. Through activism, artistry, or creativity, these responses highlight the potential of arts and creative industries to bring diverse perspectives together to innovate, change narratives, and mobilise climate action.
The event included live readings from Letters to the Earth, a participatory creative campaign calling on people around the world to write and share a letter in response to the planetary emergency; as well as video contributions from artists Love Ssega and Fanny Pierre-Galarneau, and Edgard Gouveia Junior, the Co-Founder of LiveLab Brazil.
---
Vulnerability Assessment Lessons from the Culture and Heritage Worlds in Africa
15 November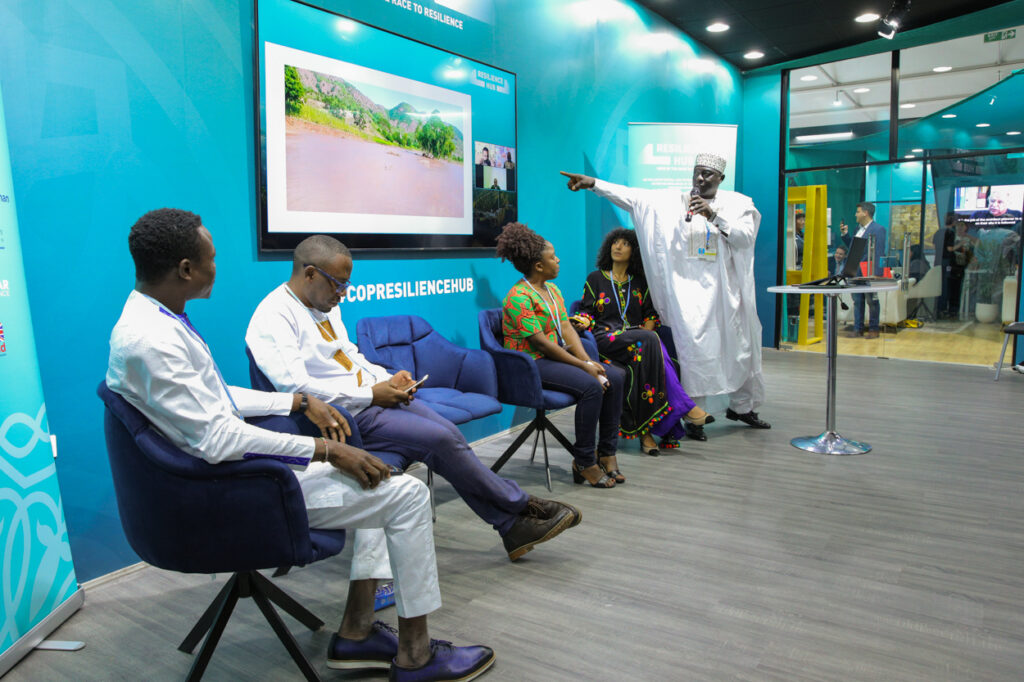 Speakers: Dr Salma Sabour (CHN Africa), Simon Musasizi (Cross Cultural Foundation of Uganda), Ibrahim Tchan (Tata Somba Ecomuseum), Mercy Mbogelah (Tanzania Wildlife Management Authority), Revocatus Bagumba (National Museums of Tanzania), Daniel Ishaya Mwada (National Commission for Museums and Monuments, Nigeria), Dr Audu Haruna Omar (Icomos Nigeria).
This event focused on enhancing heritage-based climate actions by showcasing tools and examples of successful and effective vulnerability assessments in Africa. Discussions highlighted the importance of stakeholder mapping, defining the local values and assets that are vulnerable to climate change, and the relevance of discussing how the vulnerability of values and heritage reflects on the economy and social aspects such as livelihood and cohesion of communities.
---
Culture and Biodiversity: Applying Traditional Knowledge and Practices to Support the 30×30 Biodiversity Target 
16 November 2022
Speakers: Alicia Limtiaca (Pacific Indigenous Women's Network), Andrew Potts (CHN), Tarcila Rivera (Chirapaq), Lucy Mulenkei (Indigenous Information Network), Edna Kaptoyo, (Pawanka Fund), Lakpa Nuri (Asia Indigenous People's Pact).
This event explored how indigenous peoples and local communities, particularly women, are indispensable actors and leaders with traditional knowledge and effective solutions to the climate crisis. Despite being the most adversely impacted by climate change and socio-ecological degradation, they stand at the forefront of policy-making and action to create long-term systemic change.
---
Losing the Irreplaceable: Loss & Damage, Culture & Heritage 
17 November 2022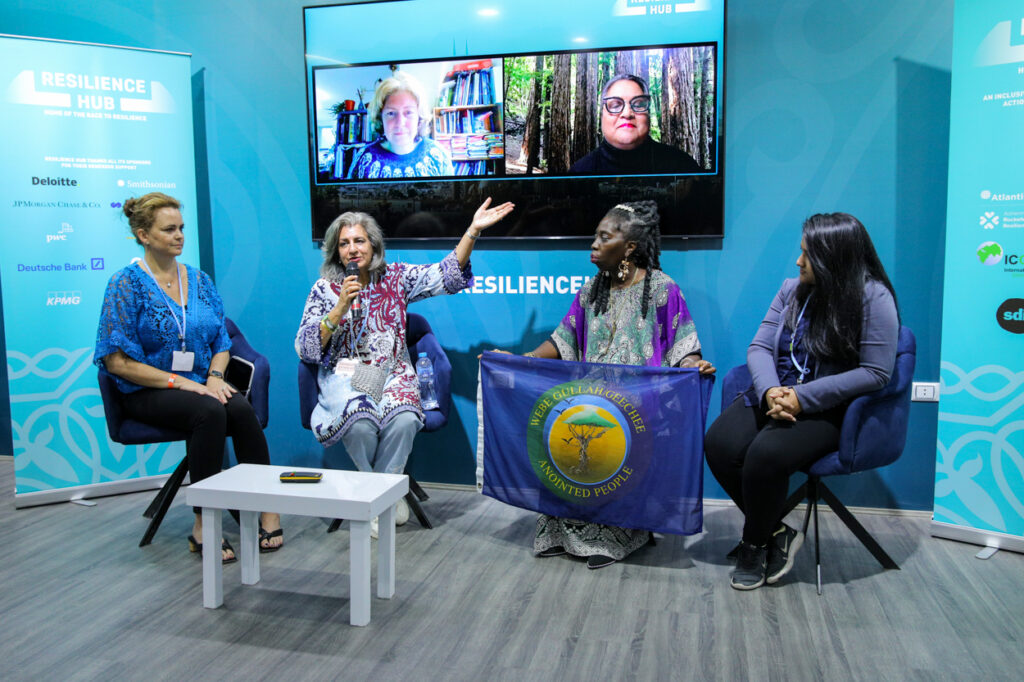 Speakers: Queen Quet (Chieftess of Gullah/ GeeChee Nation), Farhana Yamin (Environmental Lawyer), Hannah Fluck (National Trust, UK), Nusrat Naushin (International Center for Climate Change and Development), Julianne Polanko (State Historic Preservation, California), Shannon Shea Miller (State Historic Preservation, San Antonio).
This event posed the questions: How does one grieve from the loss of irreplaceable? What is the price of cultural extinction?  Does loss mean the same thing in every culture? Speakers explored the complex connections between loss and damage, and culture and heritage.
---
Additional links to read more:
Read about the outcomes of COP 27 and future plans by Climate Heritage Network for COP 28 in Dubai via Museums Journal.
Read the Climate Heritage Network press release on the outcomes of COP 27.
Read a summary of the general outcomes of COP 27 on Carbon Brief.