Posted on January 24th, 2022
Arts Centre Closes to Save Energy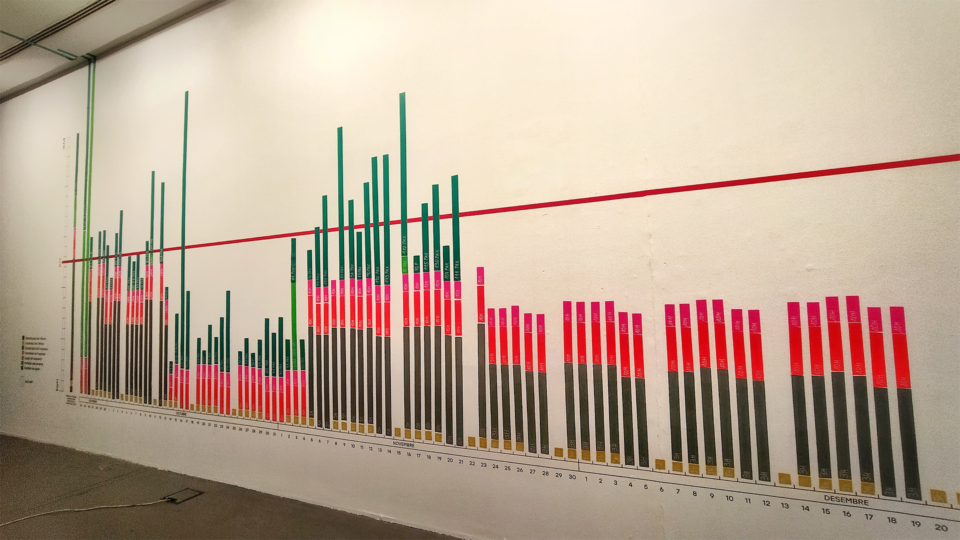 The piece 16/2017, by Joana Moll, is part of the current exhibition 'Exposar · No exposar-se · Exposar-se · No exposar', at the Santa Monica Arts Centre in Barcelona and aims to reduce the energy consumption of the art centre by 50% in the four months that the exhibition is set to run. It is an artistic intervention that directly affects the building and the people who host it, and proposes the need to articulate human activities around limited energy resources, a necessary exercise to promote new cultural rituals more consistent with the contemporary climatic conditions.
To achieve the proposed goal of halving energy costs, Santa Monica decided to close its doors for a week, from December 20 to 26. This decision, motivated by the artwork itself, stems from the need to save enough energy to be able to open the centre with the optimal climatic conditions for workers and visitors in the middle of winter, during the last two weeks of the exhibition, and thus, sticking to the energy budget proposed by the artwork.
Transformational art practices
The director of Santa Mònica, Enric Puig Punyet, points out that "art centres, due to their scale and function, are buildings with a high energy expenditure and, if we want to work with critical content, we must start adopting new behaviours to tackle the energy waste that we generate", and adds: "Like the majority of cultural centres who approach these questions only from content, Santa Mònica is letting itself cross the behavioural and structural changes that this piece proposes. It is being transformed by the critical speeches it hosts."
"This work is not only a critique of all the measures that are not being implemented to mitigate climate change but a way for the institution, in this case, an art centre, to be actively involved and make these changes," says the artist Joana Moll. "The main goal of the piece goes further than just exposing malpractice, it proposes to radically change modes of operating within the institution," she added. "Closing Santa Monica for a week responds precisely to the idea that museums should not only be filled with good intentions but also apply measures that can encourage criticism, practices or methods to mitigate climate change."
Calculating the energy cost of an exhibition
A similar exhibition at Santa Monica in 2019, had a total energy cost of 178,726 kWh, the goal now is to use half, that is 89,363 kWh.
Joana Moll's piece shows that it is possible to act against energy waste: it not only makes it visible but also makes a whole museum introduce new practices and change the way it operates, and forces not only a change of mentality but to act accordingly.
During these months, various actions have been taken at Santa Mònica, such as turning off or reducing the daily air conditioning hours in the exhibition space and in the offices, holding "a la carte" days, in which the centre's staff opens and turns off the lights according to the spaces that visitors pass through, or turn off the office air conditioning completely, as more than 60% of the energy budget is attributed to the air conditioning. Attempts have also been made to reduce the number of trips of guests that are part of the centre's parallel program, and especially, to prevent flights.
Dramatically reducing energy consumption
With these actions, it has been possible to reduce Santa Mònica's energy consumption by 50% in two months, with an average consumption of 828 kWh / day and more than 5,000 visitors. In total, 48,811 kWh have been saved, which is equivalent to 19 plane trips from Barcelona to New York or 10 car trips Moscow – Barcelona. However, more actions are needed to reach the energy limit set by the budget, that's why the art centre has decided to close its doors for a week.
Artist Joana Moll has spent many years researching and collaborating with several centres around the world to investigate the impact of technology on ecosystems and the potential role of cultural and artistic practices to mitigate such costs. She argues that "technical and scientific ideas dominate the current narrative on mitigating climate change, instead of focusing on changing the social contract, which is exactly what we need and what culture has the power to do. Public administrations should understand this premise and lead programs and funds in that direction".
Connecting up to carbon footprinting
In 2021, Joana Moll was interviewed as part of the Accelerator cohort group Fast Familiar, Abandon Normal Devices and Arts Catalyst's project, the Networked Condition. The Networked Condition is a free carbon calculation tool for planning or evaluating livestreamed events, digital artworks or digital events, created as part of our Accelerator Programme.
The interview discusses the link between Joana's interest in techno-capitalism, the acceleration of climate change and resulting decline of essential ecosystems, where the artist shares her method of appealing to artists and students to prioritise environmental impact and redesign around that:
"It's a bit of an imagination exercise to try and change how you do things. So, this is the piece of advice I give to my students and others: try to think about this first and see how everything will change. I think imagination here plays a huge role, because I think we have a huge crisis of imagination. The narratives that we shape our lives around are not working. They are bad for us, bad for the environment, bad for everything." 

– Joana Moll, Artist & Researcher, 2021