News
Posted on November 16th, 2022
Applications Open: CCL UK 2023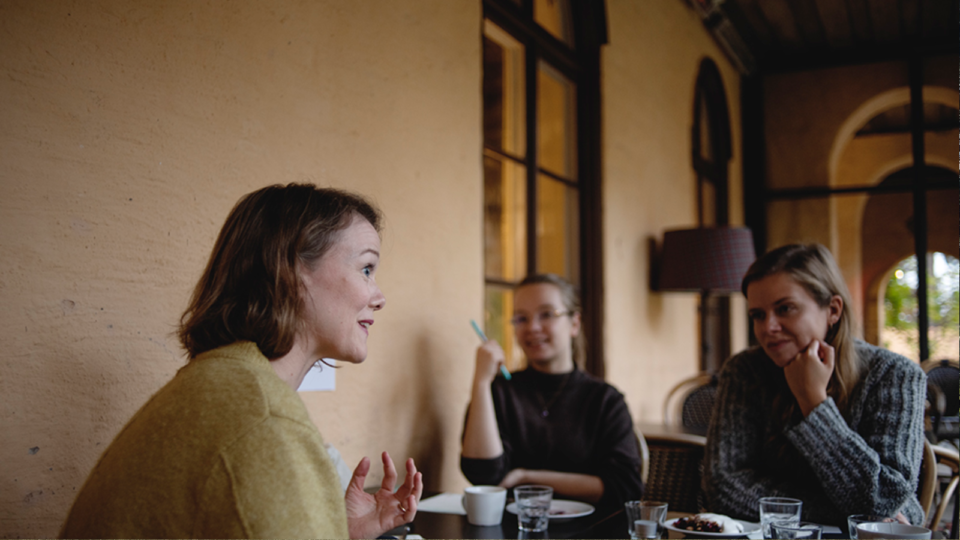 Applications are now open for Creative Climate Leadership (CCL) – a programme that empowers artists and cultural professionals to take action on the climate and ecological crisis, with impact, creativity, and resilience. It has been designed to mobilise and connect a creative climate movement. CCL has been developed by the internationally recognised charity Julie's Bicycle.
This UK CCL is funded by Arts Council England and will be held at Hawkwood College from 6 – 10 March 2023 (arrivals 5 March). Hawkwood is a beautiful, sustainably run estate in the Cotswolds, that embodies the intersections between arts and culture and environmental sustainability.
Full info below. Application deadline [extended]: Midnight GMT, 8 January 2023.
---
What is Creative Climate Leadership?
During the program, participants will learn from and engage in conversation with invited guests such as global change scientists, organisational change and participatory experts. Together you will develop an up-to-date picture of creative climate action and develop the leadership skills and networks to lead artistic practice and institutions for transformative climate action.
CCL UK offers:
An inspiring 5 day program of leadership and peer-to-peer exchange for 24 talented and motivated participants living and working in the UK.
A powerful opportunity to cross collaborate and develop creative ideas in a serene environment.
An opportunity to develop and/or scale up cultural leadership on climate action and justice.
An impressive network of international CCL alumni.
Who is it for?
CCL is for performing, visual, media, music, and other artists; cultural workers including producers, presenters, curators, administrators, funders, policy makers, and others who are ambitious and passionate about using their cultural and creative expertise in service to the ecological crisis and climate justice. All successful applicants will be expected to be active participants and share their knowledge, skills and experiences.
We are looking for people who:
Recognise climate change as an urgent challenge, and are passionate and driven to enable change.
Want to have an influence beyond their individual organisation/artistic practice.
Have a vision for what they'd like to change and can demonstrate potential to make that change.
Have the desire to advocate for the importance of culture in responding to this issue.
Are interested in challenging conventional ideas about leadership.
All applicants must be based in and/or working in the UK.
---
Key dates:
Sunday 5 March 2023 – Participants arrive at Hawkwood College
Monday 6 to Friday 10 March 2023 – Training course
Friday 10 March 2023 – Participants depart Hawkwood College in the evening
Language: All activities and materials will be delivered in English.
Location: The Residential will be held in Hawkwood College, Painswick Old Rd, Stroud, GL6 7QW.
Eligibility: UK CCL is open to artists and creative/cultural professionals working in the UK. If you would like to stay up to date and be notified when other applications for CCL open, please sign up to the Julie's Bicycle newsletter.
Cost: Fees for participation in CCL vary depending on the size of your organisation or whether you are a freelancer. They cover the costs of the programme, accommodation and food for the duration of the residential (from the evening of Sunday 5 March to evening of Friday 10 March); and inclusion in an on-going network of CCL alumni including two post-course webinars . Participants are expected to pay for their own transportation to Hawkwood College.
Band 1 CCL fee £900 + VAT – Organisations or individuals with an annual turnover/income over £300,000
Band 2 CCL fee £400 + VAT – Organisations or individuals with an annual turnover/income up to or under £300,000
Financial support: We are very conscious that the cost of living crisis has created significant financial pressures on the creative community. We are working hard to keep fees as low as possible. A limited number of grants are available to cover participation for those who could not otherwise attend but these grants do not cover travel expenses. Please note that grants will not be paid out to participants and cannot be exchanged for financial value – if you are successful, you will simply receive a free place including food and accommodation. We also recognise that freelancers are often unable to participate in these kinds of programmes due to financial pressures. Therefore we will be able to offer a limited number of stipends to cover participants' time for freelancers. There is an opportunity to request these financial supports and/or provide additional information at the application stage.
---
Back to all News & Opinion