News
Posted on June 24th, 2021
JB partners with the British Council for The Climate Connection
Julie's Bicycle announces its partnership with the British Council for The Climate Connection programme, a global initiative uniting people from around the world to meet the climate challenge.
In the lead up to COP26 – the United Nations climate change summit taking place this November in Glasgow – Julie's Bicycle is curating a policy research project, short film series and five international roundtables in Indonesia, Nigeria, Colombia, Turkey and Italy, as part of the British Council's The Climate Connection.
Why: whilst policy frameworks at all levels of government are developing targets and pathways to meet global net zero carbon and nature restoration, cultural policy has only just begun to explore the implications of a radically altered economy.
Why it matters: Culture and the arts have always mobilised change, and action on climate, as we have witnessed recently, needs buy-in from citizens. Everyone engages in culture and the creative industries in some way. Yet culture has been wholly absent from climate strategy, whether to animate science, loosen political tensions, or to build momentum – and consensus – for change.
Julie's Bicycle is advocating for: a step-change in cultural policy that aligns to net zero carbon, harnessing the opportunities of the Green Recovery to align policy with net zero carbon pathways and nature restoration.
JB also took part in Conversation for Change – The Climate Connection launch panel, on Thursday 3 June 2021.
At this live online event, climate activists, young leaders and changemakers from around the world discussed the importance and role of young people in tackling climate change, the role of arts, culture, education, science and English in climate change solutions, and how we can influence policymakers in the lead up to COP26.
JB's Founder and CEO, Alison Tickell, joined a panel of experts – Stevie Spring, Chairman of the British Council; Ahmed Yassin, the co-founder of Banlastics You Initiative in Egypt, advocating environmental values and awareness around the use of plastic in Alexandria; Rishika Das Roy, a British Council Future Leaders Connect alumna and current Technical Policy Consultant at Oxford Policy Management, based in India; and Christopher Graham, teacher, educator and writer, founder of ELT Footprint, a 2020 ELTon winner. The panel was moderated by Graihagh Jackson, presenter of BBC podcast and radio show, The Climate Question. With special opening remarks from Alok Sharma MP, COP26 President-Designate; and a guest appearance from Neil Gaiman, award-winning author.

Find further information on The Climate Connection here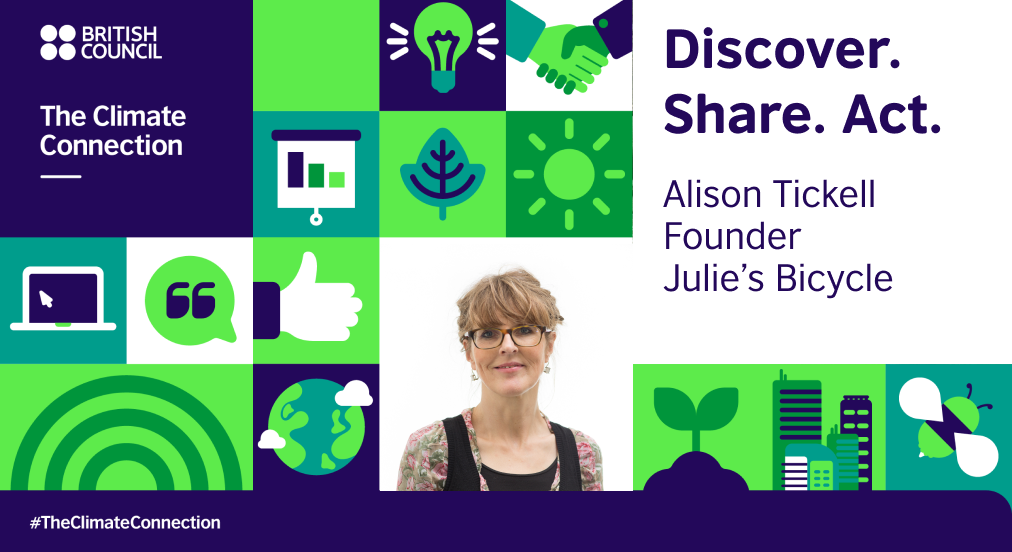 Back to all News & Opinion