The Spotlight Programme
Since 2012, Arts Council England National Portfolio Organisations (NPOs) have been required to annually monitor their environmental impacts, using Julie's Bicycle's CG Tools carbon calculators.
The data collated revealed that a small proportion of NPOs, typically those with large infrastructures, are responsible for a third of the entire portfolio's total carbon emissions.
The Spotlight Programme worked with these NPOs in the 2018-22 cohort – 30 organisations across 80 sites – to achieve measurable reductions through developing good environmental management practice, and setting achievable, yet ambitious, Environmental Impact Reduction Objectives (EIROs).
Spotlight was the only cluster of large infrastructure cultural organisations working together on a Science-based targets pathway to net zero. The Science Based Targets initiative uses research to predict the CO2 reductions required to keep global warming within 2°C.
Latest Spotlight energy reduction results
Since the programme began, the group has reduced its electricity usage by 20% and reduced its gas usage by 27%.
Overall the Spotlight programme has reduced its Scope 1 and Scope 2 carbon emissions by 35%, compared to the baseline year of 2018 – 2019.
Electricity use has decarbonised more quickly than gas; emissions have reduced by 40% as compared to 27% of gas carbon emissions. This is partly because grid electricity is being decarbonised through the addition of renewable energy sources but it is also because of the expertise and effort that organisations, together, are putting in to achieve their targets and learn from one another. For more info see the 2021/22 annual report.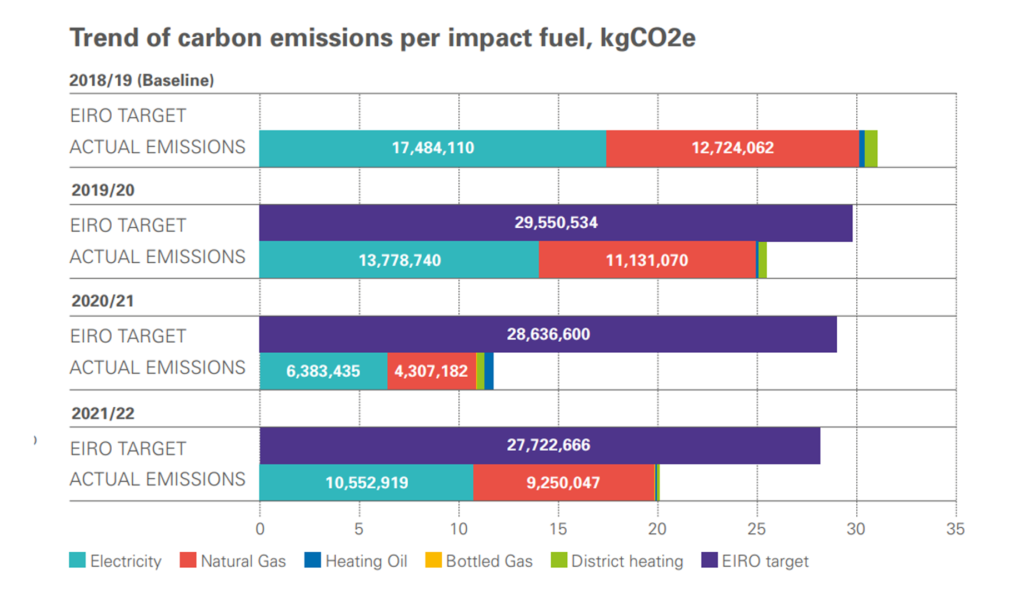 Spotlight Trends (Over a Four Year Period)
The data shows that as a cohort, Spotlight organisations have exceeded their targets for energy consumption and related emissions each year since the 2018/19 baseline. The downward trend indicates that supporting organisations in their energy management strategies and operational processes, combined with opportunities to share learning and good practices, can reduce energy-related carbon emissions. We have taken this learning forward into the design of our new programme, Transforming Energy.
---
Background and Overview of the Spotlight programme
The Spotlight programme has the following priorities:
Improvements to environmental literacy, strategy, and expertise, to agree achievable, yet ambitious, Environmental Impact Reduction Objectives (EIROs) and create governance frameworks that support their attainment and benefit the longer-term resilience of cultural institutions.

Supporting energy management strategies and operational systems to embed new technology and behaviours with a focus on driving down impacts and costs.

Creating opportunities for organisations to share best practice, knowledge and experience is a key part of the programme, which will enable organisations individually – and the sector as a whole – to achieve further environmental reductions.
Spotlight focuses on energy management with building-based arts organisations and follows the principles of good energy management as set out with ISO50001.
Check out some case studies from our Spotlight organisations:
Sage Gateshead
Tullie House
Young Vic
Birmingham museum & art gallery
Spotlight target setting methodology
The Spotlight group – 30 organisations across 80 sites – is working closely with Julie's Bicycle to achieve measurable reductions in line with the goals of the Paris Agreement – limiting global warming to well below 2°C above pre-industrial levels and pursuing efforts to limit warming to 1.5°C. The energy and carbon reduction targets proposed for each Spotlight organisation were calculated based on their 2018-19 energy baseline using the Science Based Targets (SBT) methodology. The SBT approach used for Spotlight target-setting is the sector-based approach i.e.: the global carbon budget is divided by sector – in this case commercial buildings – and emission reductions are allocated to individual companies and organisations based on its sector's budget. Targets set are relative – kilowatt (kWh) hours of energy used and kilogrammes (kg) of CO2e from energy use, both per square metre of floor area.
Webinar: introduction to the ACE Spotlight Programme
During this webinar you will hear about the approach that frame this strand and the support that will be available to you, including:
Carbon trend results of Band 3 organisations
Organisation energy management diagnostic
Energy monitoring and management tools
Design of environmental reduction targets, with a focus on energy use for building based organisations
Peer-to-peer energy and environmental knowledge sharing
Available Support
Group energy analysis
Julie's Bicycle is analysing the historic energy use data of all Band 3 organisations reported via the CG Tools to build an understanding of key trends and patterns across the cohort. This analysis is used to help Julie's Bicycle develop Environmental Impact Reduction Objectives (EIROs) for the Spotlight organisations.
EIROs
Once agreed the Environmental Impact Reduction Objectives (EIROs) are stored and tracked in the CG Tools as part of each organisations' annual reporting accounts.
Energy management scorecard
All Spotlight organisations are required to undertake a short annual survey to help JB build an understanding of where each organisation is in their energy management. Each organisation receives a results scorecard detailing their organisation's current performance across six key areas of energy management: policy, planning, responsibility, communications, intelligence and investment.
Energy monitoring & management tool
All Spotlight organisations have free access to Pilio, a tool for supporting energy management practices. Pilio provides each organisation insights into their energy performance which enables JB to better support, track and analyse progress towards meeting targets.
Annual training events
Each year there is a one-day event for the Spotlight cohort of organisations.
1-1 support
All organisations participating in the Spotlight Programme receive support from a member of the JB team to review and support each organisation's action plan development to help meet their EIROs.
Peer Sharing
Sharing best practices and knowledge through case studies, briefings and networking is facilitated to aid faster learning and achievement of target reduction. Julie's Bicycle encourages Spotlight organisations to share experiences, ideas and learnings. In addition, there are briefings and events specifically for senior leadership of these organisations.
Webinar: introduction to the Spotlight energy saving tool
During this webinar we provided training on JB's energy saving tool, taking participants through details of the features, functionality and reporting capacities available. We reviewed and talked through Action Plans and introduced recent research and a working paper of analysis around designing effective environmental impact reduction objectives (EIROs). We also outlined next steps in the Spotlight Programme.
This webinar was led by Catherine Bottril, Head of Creative Green at Julie's Bicycle with guest speaker Dr Russell Layberry, Chief Science Officer at Pilio.
PICTURES – Header: Photo by Joanna Vestey from the Custodians of Culture series, showing Sian Alexander at Lyric Hammersmith, Middle: Birmingham Museum & Art Gallery, credit Birmingham Museums Trust